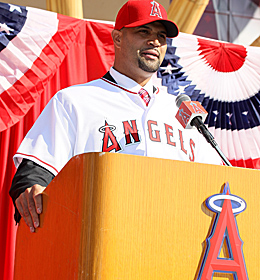 Jaime Garcia, 2-2, 3.05 vs Matt Shoemaker, RH, 1-4, 9.15



Tonight the Cards face Matt Shoemaker, a scary proposition as they always struggle against guys with ERAs over 9.00.

Last night St. Louis improved to 8-6 on the road while opening a six-game trip. The Cardinals visit the Dodgers for three games this weekend.

The Angels have dropped a season-high four straight, are 2-8 in their last 10 & have scored just six runs over these last 4 games.

Four Angels starters are on the DL, giving Matt Shoemaker another shot.He was demoted after a horrible April but has been called up from Triple-A Salt Lake, for which he threw six innings of one-run ball Friday.

The Angels learned Monday that shortstop Andrelton Simmons will likely miss two months. They made a trade with Washington to acquire Brendan Ryan, who was playing with the Nationals' Triple-A affiliate and is a Los Angeles native. He made his debut in the ninth inning last night.